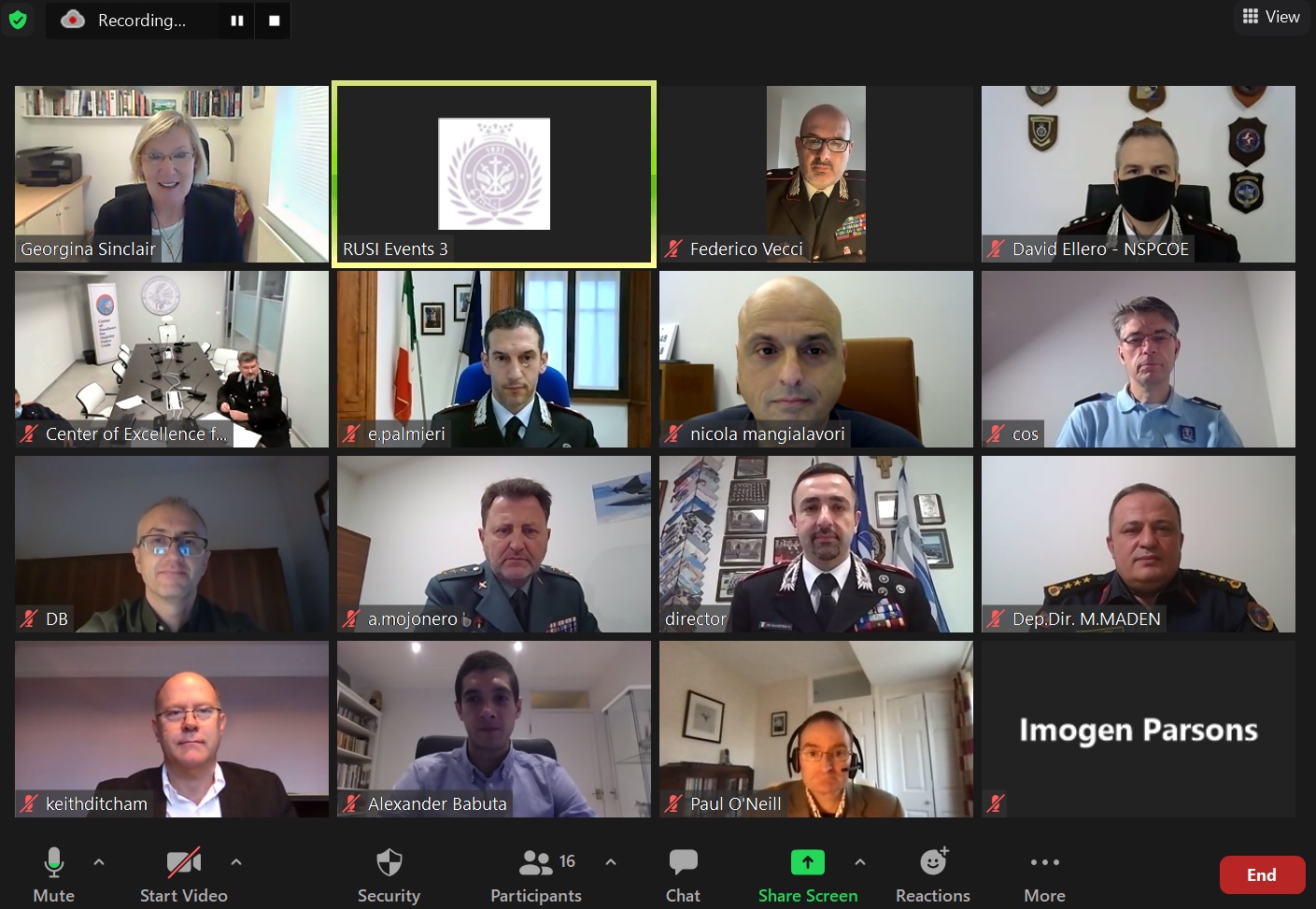 Community Engagement in Fragile and Conflict Affected States: Lesson Learning between the Gendarmerie and the Military in Afghanistan

by Georgina Sinclair
A roundtable discussion held on 9 December 2020 marked the first collaborative event between the Royal United Services Institute (RUSI), London, UK and NSPCOE (Vicenza, Italy) and focused on 'lessons learned' from the experiences of NSPCOE police practitioners recently deployed to Afghanistan. The event was hosted by Keith Ditcham, Senior Research Fellow and Acting Director, RUSI and Colonel Giuseppe de Magistris, NSPCOE Director and, chaired by Dr Georgina Sinclair, Associate Fellow, RUSI and Dr Imogen Parsons, Senior Research Fellow and Acting Director, RUSI.
Lesson learning and the development of good practice is integral to international mission effectiveness and sustainability. Sharing operational and tactical lessons between gendarmerie forces (including NSPCOE) and the military can foster good practice when policing with communities in hostile environments.
The roundtable discussion used Afghanistan as a case study to focus on three core strands: community securitisation; community engagement and gender; key components within police assistance programmes and security sector reform more broadly and, paramount to building the consent of the local population and achieving police and state legitimacy in the longer term. The broad lessons that emerged during this roundtable that could relate to any FCAS context included issues relating to:
Local community awareness and sensitivity
Tailoring training, advising and assisting programmes to the needs of local police
Integrating gender within wider police assistance programmes
Aligning police reform with wider criminal justice programmes
Providing sustained commitment to security and development programmes
Wider international donor community coordination and cooperation
Using the most suitable policing models to deliver police capacity building
Police – military cooperation
It is hoped that the initial outputs from this roundtable, including an article on key lesson learning, will provide the framework for a larger scale research project. This will identify lessons learned and good practice for the (NATO) military from gendarmerie forces including NSPCOE, Centre of Excellence for Stability Policing Units (CoESPU) and European Gendarmerie Force (EGF).