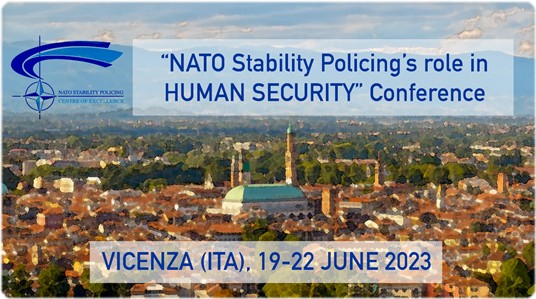 1.  Introduction
NATO is committed to safeguarding the freedom and security of its members and to continuously adapting to the ever-changing security challenges. In 2016, during the Warsaw Summit, the Alliance endorsed its policy for the Protection of Civilians. Moreover, the 2022 new Strategic Concept strongly emphasizes the Human Security Approach.
Human Security is conceptualized as a multi-sectoral approach to security that identifies and addresses widespread and cross-cutting challenges to the survival of livelihood and dignity of people. NATO's Human Security work currently focuses on five areas where the Alliance can be most effective: Protection of Civilians; preventing and responding to Conflict-Related Sexual Violence, combating Trafficking in Human Beings, Children and Armed Conflict, and Cultural Property Protection.
All these areas and the overarching Human Security require a policing dimension, a remit codified within the Alliance as Stability Policing that bears two missions, i.e., the reinforcement and the temporary replacement of Indigenous Police Forces.
The NATO Stability Policing Centre of Excellence, NATO's hub of expertise, innovation and transformation in the subject matter is inspired by the NATO's Human Security Approach and seeks to further study the topic seeking relevant implications and suggestions to make and keep the Alliance fit for purpose in a 360° approach.
2. The event
The event is to be held in a dual format: in first instance, a high-level in-presence conference, which will also be streamed online on the 20th of June 2023. High-profile speakers will address a group of SME's on matters relevant to Human Security. A workshop will then follow from the 21st to 22nd. Four syndicates will be formed, one per each area , and all participants will rotate within the syndicates and analyse how Stability Policing can address each of the cross-cutting topics for the benefit of the Alliance. Identified results of each syndicate will be presented to the NATO SP CoE Command Group on 22 June 2023.
3.  Aim
The event seeks to increase the knowledge and delve in depth into the relation between Stability Policing and Human Security in general and the Cross-Cutting Topics in particular, in order to obtain actionable insights to improve the contribution Stability Policing assets can provide to NATO operations, missions and NAC approved activities in these fields. The focus of the analysis will be terminology, standardization, interoperability and conceptual as well as doctrinal shortfalls, gaps, implications and strongpoints, seeking to eliminate or at least mitigate negative factors and boosting positive ones.
4.  Practicalities
The event will take place in Vicenza, Italy, between the 19 to 22 June 2023. Administrative instructions as well as details on the registration and the attendance will follow in due time.
5.  Point of Contact
The point of contact for the event is Lt. Col. (OF4) Marco FORNASARIS (email: [email protected]; mobile: +39 344.1873650; office: +39 0444 144 9619).